Renewable power
Global population is steadily growing. While the standard of living is fast improving for many, the world's natural resources are becoming scarce and enormous amounts of waste are being generated. Renewable power generation can contribute to the long-term sustainability of our planet and provide substantial benefits for our climate, our health, and our economy. Alfa Laval has a broad range of equipment and services to support the growth of renewables.
Applicazioni correlate
Prodotti correlati
Servizi correlati
Tutto
Air heat exchangers wetted
Automazione
Caldaie
Componenti per la miscelazione
Filtri
Filtri a flusso inverso
Membrane
Riscaldatori
Scambiatori di calore a piastre
Scambiatori di calore raffreddati ad aria a tubi / batteria alettati
Scambiatori di calore raffreddati ad aria a tubi alettati
Separatori centrifughi
Soluzioni di desalinizzazione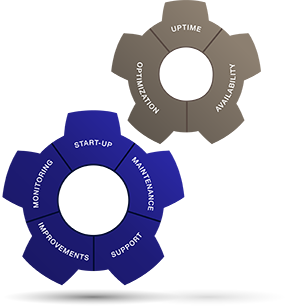 La nostra rete globale di assistenza può contare su professionalità dedicate ed esperte del vostro settore. Siamo qui per mettere a vostra disposizione tutta la nostra competenza e parti di ricambio, ovunque, e ogni volta che ne avrete bisogno.
Il portafoglio di servizi a 360° Alfa Laval soddisfa tutte le vostre esigenze per l'intero ciclo di vita delle apparecchiature – a cominciare dalla fase di avviamento, manutenzione, supporto e miglioramenti fino ai servizi di monitoraggio – per assicurarvi continuità operativa, disponibilità e ottimizzazione.
Riducendo al minimo i costi totali di proprietà, vi aiutiamo a distinguervi dalla concorrenza.
Ulteriori informazioni sulla nostra offerta di servizi
---
Preventivo per Renewable power