Engine and transport
Alfa Laval's advanced heat transfer, filtration and separation products and solutions ensure engines perform efficiently, with the lowest life-cycle costs and minimal impact on the environment. Alfa Laval's ability to integrate these technologies into your engine, either, individually or in combination with each other, results in high levels of compactness and low weight.
Applicazioni correlate
Prodotti correlati
Servizi correlati
Tutto
Filtri a flusso inverso
Scambiatori di calore a piastre
Scambiatori di calore raffreddati ad aria a tubi / batteria alettati
Separatori centrifughi
Soluzioni di recupero gas di scarico marittimi
Soluzioni di tutela ambientale
Soluzioni per acqua dolce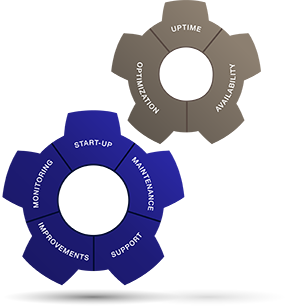 La nostra rete globale di assistenza può contare su professionalità dedicate ed esperte del vostro settore. Siamo qui per mettere a vostra disposizione tutta la nostra competenza e parti di ricambio, ovunque, e ogni volta che ne avrete bisogno.
Il portafoglio di servizi a 360° Alfa Laval soddisfa tutte le vostre esigenze per l'intero ciclo di vita delle apparecchiature – a cominciare dalla fase di avviamento, manutenzione, supporto e miglioramenti fino ai servizi di monitoraggio – per assicurarvi continuità operativa, disponibilità e ottimizzazione.
Riducendo al minimo i costi totali di proprietà, vi aiutiamo a distinguervi dalla concorrenza.
Ulteriori informazioni sulla nostra offerta di servizi
---
We supply these technologies to engine manufacturers working in many markets around the world, to help provide reliable, high performing diesel and gas engines to their mining, railway, marine, power generation and industrial customers.
We offer a broader array of products and application expertise for cooling, filtration and crankcase gas cleaning of diesel and gas engines.
Our products increase your engine's performance by:
Extending engine lifetime
Extending oil lifetime
Eliminating filter cartridge disposal
Improving cooling efficiency
Reducing unnecessary engine loading
Reducing crankcase emissions
Preventivo per Engine and transport