Industrial refrigeration
Per l'industria alimentare offriamo refrigeratori ad aria ad alta efficienza che possono essere combinati con scambiatori di calore a piastre. La produzione spazia dalla refrigerazione dei macelli e delle aree di lavorazione delle carni e dei prodotti ittici al mantenimento della temperatura appropriata negli ambienti di immagazzinamento di derrate alimentari fresche.
Prodotti correlati
Servizi correlati
Tutto
Scambiatori di calore a piastre
Scambiatori di calore raffreddati ad aria a tubi / batteria alettati
Scambiatori di calore tubolari
Una soluzione per ogni applicazione
Per lo stoccaggio dei prodotti agricoli – verdure, patate e frutta – gli aerorefrigeranti Alfa Laval assicurano un rapporto capacità/portata d'aria perfettamente bilanciato e le migliori condizioni per ogni tipo di prodotto. Ad esempio, le celle di maturazione delle banane Alfa Laval vengono usate per ottimizzare ogni fase del delicato processo di maturazione.
Nella moderna orticoltura, negli impianti per floricoltura, ad esempio, vengono impiegati gli speciali scambiatori di calore ad aria Alfa Laval per rinfrescare e riscaldare l'aria all'interno delle serre. Questi sistemi migliorano notevolmente sia la quantità che la qualità della produzione e al tempo stesso consumano meno energia e riducono i costi di esercizio.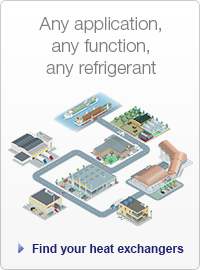 Alfa Laval offers reliable heat exchangers that deliver energy-efficient performance, whatever the application.Explore our applications.
Preventivo per Refrigerazione industriale