An Alfa Laval Packinox plate-and-frame heat exchanger is the perfect choice for heat transfer duties in processes with large flows, high temperatures and high pressures. Its superior thermal performance lets you increase energy efficiency, grow profitability and minimize your environmental impact. The low CAPEX, high uptime and minimal maintenance requirements give you an attractive ROI and a low total cost of ownership.
Outstanding thermal efficiency
Low operating cost – The exceptional heat recovery brings substantial energy savings.
Low maintenance costs thanks to minimal fouling.
Lower CAPEX – A single Packinox can replace several large shell-and-tube heat exchangers.
Low pressure drop.
Reliable, proven technology – More than 350 units in operation worldwide.
Packinox plate-and-frame heat exchangers offer superior heat transfer performance, and a single Packinox heat exchanger outperforms systems consisting of multiple large shell-and-tubes, both in terms of heat recovery and investment costs.
Because of their many advantages, Packinox heat exchangers are becoming increasingly popular in a range of applications such as carbon capture and storage (CCS), energy storage and petrochemicals.
Raised odds for cost-effective clean coal
See how two integrated gasification combined-cycle (IGCC) plants benefit from using Alfa Laval Packinox plate-and-frame heat exchangers in their carbon capture and storage (CCS) systems.
Packinox plate-and-shell heat exchanger
Alfa Laval Packinox is also available in a plate-and-shell configuration, which is suitable for applications with higher pressures and temperatures. The plate-and-shell model also features Alfa Laval´s patented Spray Bar system, which optimizes liquid injection in gas streams.
Sustainable solutions
Imagine a more sustainable world. A world where it takes less to produce even more. A world where we efficiently meet our growing energy demands and simultaneously reduce CO2 emissions. Imagine a world where we can harness the power of natural resources, while preserving them at the same time. At Alfa Laval, we don't just imagine this world. We're building it – together with our customers and our partners.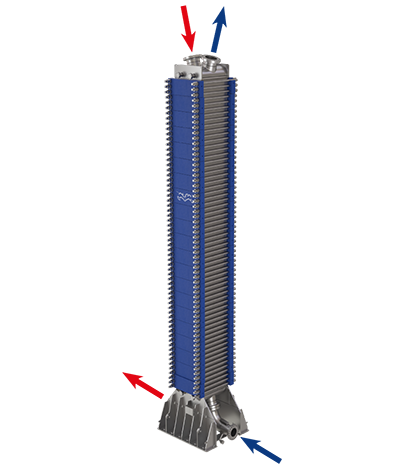 The heart of an Alfa Laval Packinox plate-and-frame heat exchanger is a fully welded bundle of heat transfer plates. The hot and cold streams flow in alternate channels between the plates, and in opposite directions. The counter-current flow maximizes heat transfer and makes it possible to operate with crossing temperatures in a single unit.
The corrugation of the plates causes high turbulence in the media, thereby increasing heat transfer and minimizing fouling.
The overlapping welds on two of the sides of the plate bundle form solid walls. The other two walls are reinforced with side panels, held together by a large number of tie rods. This design allows an Alfa Laval Packinox plate-and-frame heat exchanger to be operated at high pressures and with a differential pressure of up to 70 bar.
A Packinox plate-and-frame heat exchanger can be configured to operate with more than two flows, meaning several media can be heated or cooled simultaneously. Each flow can have an individual number of channels and the channel gap can differ for the different media.

Wide Opening Design
Maximum heat recovery
Our patented Wide Opening Design plates have a special distribution area with minimal pressure drop. This gives you the highest possible heat recovery while keeping the overall pressure drop low.

Explosion forming
High-strength plates with long, reliable lifetime
The pattern on a Packinox heat transfer plate is formed by the shockwave from an underwater explosion. This one-step operation minimizes residual stresses in the plates, making them mechanically stronger. The end result is very high operating reliability and longevity.

Lifetime Follow-up
Continuous monitoring and optimization
We continuously collect and analyse operating data from Packinox heat exchangers in operation. This allows us to make recommendations on how to improve performance and when to plan service, all communicated in regular condition reports.

ALOnsite™
Qualified support at your facility
With Alfa Laval as your partner, you have the full backing of our global service network. You have 24/7 remote technical support, and we can be at your plant within a day or two in case you need onsite assistance.
Unique plate design improves thermal efficiency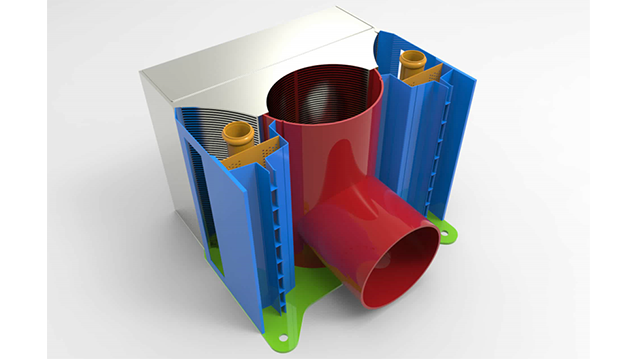 Alfa Laval's unique Wide Opening Design heat transfer plates have many benefits:
50% lower pressure drop over the distribution areas compared to the previous design. This makes it possible to either increase heat recovery, reduce the size of the heat exchanger or to lower the overall pressure in the process.
30% higher mechanical strength and higher resistance to thermo-mechanical stress.
Improved flow and pressure distribution, which improves operability.
Get the latest news on Linkedin
Learn how our solutions, and the support we can offer, can help you identify new possibilities for both profitable growth and a positive environmental impact. On our showcase page you can keep up to date with our latest innovations and solutions and the work we do within clean energy, energy efficiency, and the circular economy.